Hopefully the enormous costs will dissuade legislators from passing a bill that would require the Wisconsin Department of Corrections to automatically recommend revocation of anyone "charged with a crime." The bill literally says "charged with a crime." Not a felony, not a violent crime, "a crime." Although ordinances that are punished only with fines are not counted as crimes, misdemeanors, which could carry jail time, count as a crimes. This includes vagrancy, thefts of property worth less than $2500, disorderly conduct, battery without substantial harm, and 4th degree sexual assault (unwanted touching), among hundreds of other offenses. These crimes may put you at risk of a few months time in the county jail, but not sentences to state prison.
The proposal would add enormously to the already-inflated costs of incarceration in this state. It is already true that about 20% of the people admitted to prison have been revoked with a new offense. What reformers call "crimeless revocations" for violations of the terms of supervision already accounts for 50% of the people admitted to prison, and there are good reasons to scale this back, not increase it. In commenting on the proposed bill, the Wisconsin Department of Corrections, which shows no general unwillingness to revoke people, stated that in 2016 it recommended the revocation of 9416 people and it estimates that this bill would increase the number recommended for revocation by 5570 a year, or 59%. It estimates that the cost of reviewing these cases alone at $233 a case would be $1.2 million. They assume that not everyone recommended for revocation would actually be revoked, and using assumptions that 52% would actually be revoked and would spend an average of 19 months in prison, they estimate the bill would add 4586 inmates to the total "in prison" population at an annual costs of $149.4 million.
This bill would be closer to making sense if it were rewritten to say "a felony," as it is felonies that are potentially punished by imprisonment. Even this violates principles of due process, as it punishes someone before they have pled or been found guilty. Further, people already are frequently revoked and re-incarcerated while awaiting adjudication for a new offense. When I took a look at Wisconsin's revocations using data from the National Corrections Reporting Program, I found that roughly a third of the people listed as entering prison for a second or subsequent time on a revocation with no new sentence had an offense added to their record. The most likely explanation for this is that the person was revoked while awaiting adjudication on the new crime. People who were charged with another instance of the same offense would not necessarily have been picked up by this method.
The stated reason for this bill is to address violent crime. But most people at risk of revocation are not violent criminals. I don't have direct data on the offense mix of everyone on extended supervision, but I do have data on the offense mix of people released from prison in Wisconsin between 2000 and 2014, nearly all of whom are released to extended supervision. The figure  below shows the percentage of those released who are in each offense category, with violent crimes in red at the bottom and moving up to nonviolent crimes at the top. Including robbery, about 40% of the people released from prison in a given year committed a violent offense; the other 60% did not. Of the nonviolent offenders being released, about 10% are burglars, about 20% drug offenders, about 10% drunk drivers, and most of the rest various categories of thieves. There is no particular reason to believe that the mix of offenses they might commit on extended supervision is any more violent than the mix they went into prison for.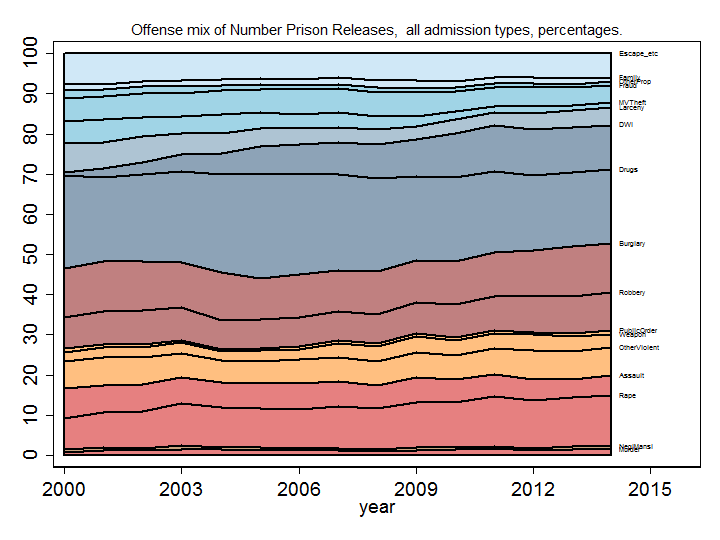 There is little evidence that this bill would reduce violent crime and a lot of evidence that its main effect would be to increase the amount of money state taxpayers would pay for its prison system.
Collection of public testimony. Includes DOC estimate:  https://docs.legis.wisconsin.gov/misc/lc/hearing_testimony_and_materials/2017/ab94/ab0094_2017_05_16.pdf
News coverage: Wisconsin State Journal May 28, 2017