Madison and Dane County have an affordable housing crisis. On the west side of Madison, one new owner of a 90-unit complex has recently non-renewed two thirds of his tenants, leaving them to scramble to try to find housing in an impossible market for lower-income renters. In addition, recent changes to the law (see below) give landlords even more power to get rid of low income tenants and focus on those who are more affluent.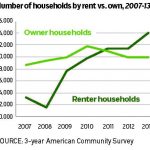 As the graphic produced by reporter Brandon Raygo of the Capital Times in October 2015 shows, Dane County's renter population is growing. Affluent younger people, including Epic employees, are choosing to rent rather than buy homes.
Rental units are being built all around town, mostly for the high-end market, but supply has still not kept up with demand. Recent reports say that even adding 1,000 units per year would not keep up with demand. This has resulted in higher rents and lower vacancy rates. Madison has one of the lowest rental vacancy rates in the country. A 5% vacancy rate is considered healthy: landlords can keep their units full and tenants can find places to live. Madison's vacancy rate is 2%, third lowest in the country. Renting in Madison is like a rigged game of musical chairs, where the weakest players lose. And as supply and demand kicks in, the average listing for a one-bedroom unit rose from $700 in 2010 to $900 in 2014.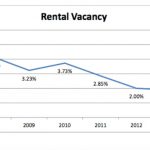 A report released Oct 27 by Revel Sims and students in his class  documents the grim situation that local Madison renters face. (See coverage in the Capital Times and the  Wisconsin State Journal for good summaries.) The report was released in a week that sees UW Madison PhD alumnus Matt Desmond back in town to talk about his blockbuster book Evicted, this year's Go Big Read. Their focus is on eviction, but in this post I want to focus on the background conditions that create hard times for lower income renters.
Rents Exceed Affordability Threshold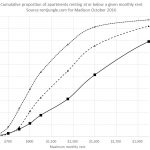 Most rental units in Madison cost more than a low-wage worker can afford to pay. Ideally, housing should not cost more than 30% of income. For a few sample occupations (janitor, retail sales, home health aide, elementary school teacher), I calculated how much a single individual could afford to pay in rent using the 30% of income criterion, and also using the higher 50% criterion. As an example, consider a mother with two children who needs a 2 bedroom rental. She is a retail sales worker making the median income. To meet the 30% criterion she could only pay rent up to a bit more than $500. The graph (calculated from offerings on rentjungle.com) shows that there are almost no rentals available to her. She has to stretch to 40% or 50% of income to even have a chance of finding something, and still only 10-20% of the 2 bedroom units are in her price range. Or, if her children are older, she may take a second job to have enough money to pay for both housing and other necessities, possibly leaving them  home unsupervised more than she'd like.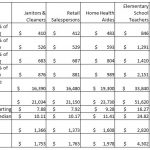 Many landlords require prospective tenants to meet the 30% rule. While everyone agrees that this is the maximum you ought to pay for rent, the fact is that there are no apartments available that meet this criterion for low wage workers, especially single parents who have children and need 2- or 3-bedroom apartments. Enforcing this rule effectively denies access to the housing for many. Additionally, some landlords also require a high credit score, an additional hurdle for people who have had past credit difficulties but are working hard to pay all their bills now.
When landlords let renters stretch beyond 30% of income, as many do, people have housing but they have to make trade-offs between rent and things like food, medical care and other necessities. This makes life precarious. Car trouble, illness, a reduction in work hours, a mistake by a family member, funeral costs, or hundreds of other possible setbacks can lead to late rent payments and an eviction into homelessness.
Local Joining Forces for Families social worker Mike Bruce has seen 100+ people desperately seeking housing in this past year.  The problem of housing is the biggest issue in all the JFF offices in Dane County. Despite all the "services" and "help" available, JFF workers say, they can't assure that low income people will get housing, even if they are doing all the right things to find it and keep it.
Effective Demand and the Need for Subsidies
More apartments are being built, but they are primarily fancier one-bedroom apartments targeting higher-income single adults who can afford higher rents. This is a rule called "effective demand": the market can supply the needs of people who can afford to pay. But if you don't have enough money, the market cannot supply your need. Unless wages go up, there are people who just cannot afford housing.
Housing subsidies can help, but they're scarce and hard to get. There are 1600 section 8 vouchers available from Madison Community Development Authority and another 1160 from Dane County; these pay about $17 million to local landlords for low-income tenants. Neither the city nor the county are currently accepting applications for Section 8 housing vouchers, and this isn't unusual. Since the County closed its waiting list in 2007, the list has reopened only once  – for just five hours in August 2015. It was closed again after five hours because several years' worth of people had already signed up for the waiting list. There are also about 1000 units of public housing, most of it in Madison. Again, not enough to meet the need. A Dane County housing needs assessment by Kurt Paulsen calculates that there are at least 5890 more households who need affordable housing than affordable units. Some sort of public or collective solution is the only way out. Matt Desmond argues in Evicted  for a massively expanded program of housing vouchers.
In addition, the effective demand is not producing more 2- and 3-bedroom units, the ones needed by lower-income families who do not have the resources to buy a home.
Legal changes
Several recent changes to Wisconsin law have given landlords even more power in their relations with tenants. (Source is Sims, et al., Evicted in Dane County)
2011 Act 108 took effect Dec 2011 allows no limit on lookback for credit or criminal history (harmful to people who had trouble in the past but have been trying to repair the damage)
2011 Act 143 took effect March 2012 prohibits municipalities from passing eviction moratoriums, says payment cannot stop evictions
2013 Act 76 took effect March 2014

Landlord can take possession of and sell property left behind after an eviction
Eviction summons does not have to be delivered personally, can use certified mail

2015 Act 176 effect March 2016 permits 5 day "quit with no cure" eviction of tenant or any guest or household member engages in any criminal or drug activity, whether or not they have been arrested or convicted. Also prohibits regulating landlords or requiring information about them.
NOTE: The information in this post was originally prepared by me and John Lemke with input from Helene Nelson and others on the Orchard Ridge United Church of Christ Racial Justice Task Force to inform our community work. I am particularly grateful to Ian Aley, one of the co-authors of the Evicted in Dane County report for sharing a preliminary version of that report with me to guide my own work. You may download a PDF version of this information by clicking on this link.
References
Sims, J. R., Aley, I., Dundore, L., Laemmli, T., Long, S. Lutz, E., McFerren, R. (2016). Evicted in Dane County, Wisconsin: A Collaborative Examination of the Housing Landscape. Madison, WI.
Godar, Bryna. "Report: Madison needs to build over 1,000 rental units each year to keep up with demand." The Capital Times October 8, 2015.
Paulsen, Kurt. "Housing Needs Assessment: Dane County and Municipalities." (2015) Report to Dane County Health and Human Needs Committee.
Homeless in Madison a special series of reports by the Wisconsin State Journal that has been archived to its own web site.