EDITED June 2020 to update links in the M4BL web site.
Under the name  Movement for Black Lives , a coalition of contemporary Black Power organizations (including  Madison's Freedom, Inc.) have worked for a year to develop a comprehensive vision and agenda for social change. This is an exciting moment for both activists and academics. We are watching a new movement take shape before our eyes.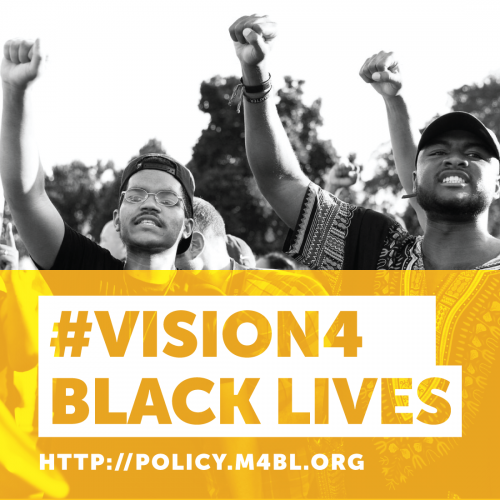 While this agenda is distinctively and unapologetically Black, it is also an agenda for a broad-based multi-ethnic coalitional movement for social justice. The agenda involves six major policy areas, each with a series of more specific demands and each of these backed up by longer policy papers (I count 39 in all) that document the justification for the policy proposals. The whole thing is presented in an accessible web format and the roll-out included a well-organized mass media and social media campaign. This is serious. In this post I will summarize the overall agenda and then in subsequent posts will look in more detail at each of the six areas.
The preamble says in part: "We are a collective that centers and is rooted in Black communities, but we recognize we have a shared struggle with all oppressed people; collective liberation will be a product of all of our work. We believe in elevating the experiences and leadership of the most marginalized Black people, including but not limited to those who are women, queer, trans, femmes, gender nonconforming, Muslim, formerly and currently incarcerated, cash poor and working class, differently-abled, undocumented, and immigrant. We are intentional about amplifying the particular experience of state and gendered violence that Black queer, trans, gender nonconforming, women and intersex people face. There can be no liberation for all Black people if we do not center and fight for those who have been marginalized. It is our hope that by working together to create and amplify a shared agenda, we can continue to move towards a world in which the full humanity and dignity of all people is recognized."
The six areas are (with links to the relevant section of the web site):
As I typed up this summary, I could see that some of the bullet points in the agenda are very specific while others are themselves collections of broad and diffuse issues. In subsequent posts I will work through the details, looking at the details of the demands and proposals and looking for connections to other movements and organizations.
The 2020 Update also includes two rapid-response position papers on COVID 19 and the rights of protesters.
Links: main web page  https://m4bl.org/policy-platforms/
You can  read longer policy statements in each of the six areas by clicking on the area. There are also PDF versions of longer policy statements supporting this agenda available in each of these six spaces. (My only criticism of the web site is that there isn't a single download available of the whole package all policy documents together.)