Cheese folks: Mike Gingrich of Uplands Dairy & John Jaeggi of Center for Dairy Research – "Forward! The Reinvention of the Wisconsin Legend-Dairy Industry Through the Wisconsin Idea"
PowerPoint PDF of this Presentation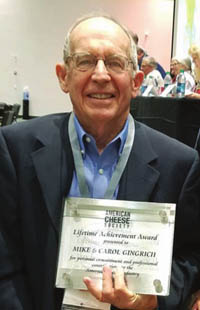 Mike Gingrich,
artisan cheesemaker
In addition to learning about an amazing cheese, you get the opportunity to meet the artisan who actually makes it, find out how he did it, and even ask him questions. At this week's lecture you have the chance to meet one of America's premiere artisan cheesemakers, Mike Gingrich, who crafts Pleasant Ridge Reserve. Learn about his vision and how he made it a reality, by applying the Wisconsin Idea in action.
His cheese was voted Best of Show out of nearly 1,000 cheeses at the 2005 American Cheese Contest, took the same award at ACS in 2001 AND was named the U.S. Champion Cheese in 2003.
All that for a cheese made on a dairy farm right near Madison – in Dodgeville.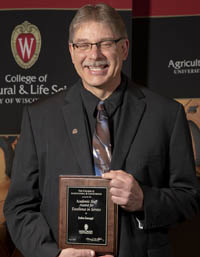 John Jaeggi,
Cheese Industry & Applications Coordinator
As the coordinator of the Cheese Industry and Applications Program at CDR, John is responsible for the coordination and execution of trials and application extensions. In addition John lectures and conducts lab sessions for numerous CDR and company contracted short courses. John has a B.S. in Business and Economics. He is a third generation licensed Wisconsin Cheesemaker with over 30 years of experience in the industry. He has also been a technical judge in many contests including the United States and World Championship Cheese Contest
---
ASSIGNMENTS: Read "Grass-based dairy products: challenges and opportunities" – pdf link here
NOTE: Those taking the course for credit: Written Review of Cronon's "Only Connect…." due
---
You are welcome to leave comments about this lecture or topic below. Please note these are moderated – no off-topic or inappropriate comments will be allowed. Please remain respectful. We reserve the right to delete any that are not deemed appropriate.