Gavin Luter – "Making the Wisconsin Idea Local: The UniverCity Alliance's Work with Local Government?"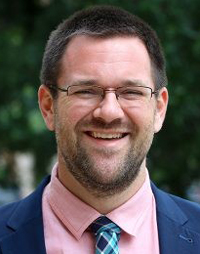 Gavin Luter, Ph.D., Director of the UniverCity Alliance, University of Wisconsin-Madison
Gavin Luter received his Ph.D. in educational administration from the University of Buffalo in 2015. He holds a Master's of Science degree in the higher education administration from the University of Tennessee-Knoxville and a Bachelor's of Arts degree from Virginia Polytechnic Institute and State University in public and non-profit management.
Most recently, Luter served as the Executive Director of Wisconsin Campus Compact. While pursuing his doctorate, he published several peer-reviewed articles and served as guest editor of a peer-reviewed academic journal on community-school-university partnerships and the intersection of school reform and neighborhood development. As part of his project work with the University at Buffalo Center for Urban Studies, Luter served as education planning director of the US Department of Housing and Urban Development's Choice Neighborhood initiative where he worked to secure over $16 million in commitments from 45 different philanthropic and higher education partners to create a neighborhood-linked education system. Luter also oversaw the Center's neighborhood development internship program where college students operated an in-school project-based learning enrichment program for middle school students centered on neighborhood-based problem solving.
At the United Way of Greater Knoxville, Luter managed a Bill and Melinda Gates Foundation regional teacher effectiveness advocacy and coalition-building grant project. At the University of Tennessee-Knoxville's (UTK) Howard H. Baker Jr. Center for Public Policy, Luter developed and coordinated an undergraduate student living-learning community experience for students interested in public service and civic engagement.
---
Required for course credit: Attendance – sign in sheet
Additional Resources:
TBA
---
You are welcome to leave comments about this lecture or topic below. Please note these are moderated – no off-topic or inappropriate comments will be allowed. Please remain respectful. We reserve the right to delete any that are not deemed appropriate.