Broadcasting the Wisconsin Idea:
100 Years of Public Broadcasting
in the State that Invented It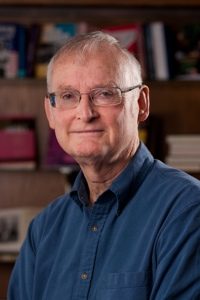 Jack W. Mitchell joined the School of Journalism & Mass Communication faculty in January 1998 after a 30-year career in public radio. He is author of Listener Supported: The Culture and History of Public Radio in addition to numerous articles and chapters about public broadcasting. He moved to emeritus status in December 2009, but continues to teach courses, and to serve on the boards of the Wisconsin Center for Journalism Ethics and the Wisconsin Center for Investigative Journalism.
As Director of Wisconsin Public Radio for 21 years, Mitchell led the most extensive and successful state or university public radio system in the country. He initiated the transition from the Wisconsin Educational Radio Network into Wisconsin Public Radio, which serves a statewide audience with two networks.
On a national level, Mitchell was the first employee of National Public Radio. While at NPR, he was instrumental in developing the groundbreaking newsmagazine All Things Considered. During his years as the program's first producer and executive producer, ATC won both the Peabody Award and the DuPont Award.
Mitchell was elected to an unprecedented four terms (12 years) on the National Public Radio Board of Directors, including three years as chair. He made significant contributions in virtually every area of the organization's work from programming to finance to long-term strategy. When NPR was on the brink of financial collapse in 1983, Mitchell was asked to assume interim responsibility for NPR's programming operations as part of a team that restored the organization's financial health and saved it from going dark.
Mitchell received the two highest honors in public radio, the Corporation for Public Broadcasting's Edward R. Murrow Award, and the Edward Elson National Public Radio Distinguished Service Award.
As Professor of Journalism & Mass Communication at UW-Madison, Mitchell has taught the gateway Introduction Mass Communications course required for students applying to the school. He has also taught courses in public broadcasting, broadcast news, intermediate reporting, and professional responsibility. As an emeritus professor, he teaches a course for freshmen on "Media Responsibilities and Realities," which exams the current performance of both persuasive and journalistic media.
His undergraduate and master's degrees are from the University of Michigan. He earned his Ph.D. from the University of Illinois.
---
Assigned Readings:
Wisconsin on the Air: 100 Years of Public Broadcasting in the State That Invented It by Jack Mitchell