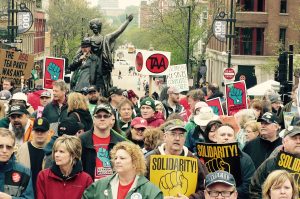 The Politics, Culture, and Society (familiarly known as PCS) workshop is a weekly training seminar of graduate students and faculty in the Sociology Department at the University of Wisconsin–Madison. PCS meets on Tuesdays at 12:30–2:00 in Room 8108, Sewell Social Sciences Building. Most sessions are devoted to relatively informal faculty or student presentations of work in progress, followed by discussion. Papers may be circulated in advance via the PCS email list.
We are interested in research in a broad range of sociological areas, including but not limited to political sociology and cultural sociology; we are open to a wide variety of theoretical perspectives and both quantitative and qualitative methods. Visitors and newcomers are welcome. Check out our calendar page to see all upcoming events.
Students may enroll in this seminar as Sociology 992 for 1 credit, which will be graded on a S/U basis. See the syllabus page. If you wish to enroll for 2 or 3 credits you must receive instructor permission and do extra work, including giving a presentation in the seminar.
Note to potential presenters and attendees: Our schedule is subject to change, and it is appropriate to ask whether we can reschedule if you have a need for a presentation slot to practice a job or conference talk. The calendar on this web site is kept updated.