New Email Servers
On Wednesday, January 11th, the SSCC replaced our email server with a cluster of new servers. These new servers are much more powerful than the old email server, and the cluster arrangement means email service will not be interrupted even if one of the servers experiences a hardware failure.
Many SSCC members still need to make a change in their email settings so they can view their email folders. As always, contact the consultant if you have questions or run into problems.
I can get my Inbox, but not my Folders
In the past it has been necessary for you to tell your email program where your mail folders are located on the server--and that's been the number one source of problems when members configure email programs to read SSCC email. That will no longer be needed with the new servers, but the price is that some members will need to remove that setting from their email program.
If you open your email program on Wednesday and your folders are fine, you don't need to do anything. But if your Inbox is accessible as usual and your folders are not, follow the instructions for your email program to fix it:
Thunderbird
Go to Tools, Account Settings, Server Settings, and click on Advanced. Delete everything in the IMAP server directory box, and click OK to close the settings windows. Uncheck the box Show only subscribed folders unless you're sure you want to explicitly choose which folders are visible. If your mailboxes don't appear automatically, close Thunderbird and open it again.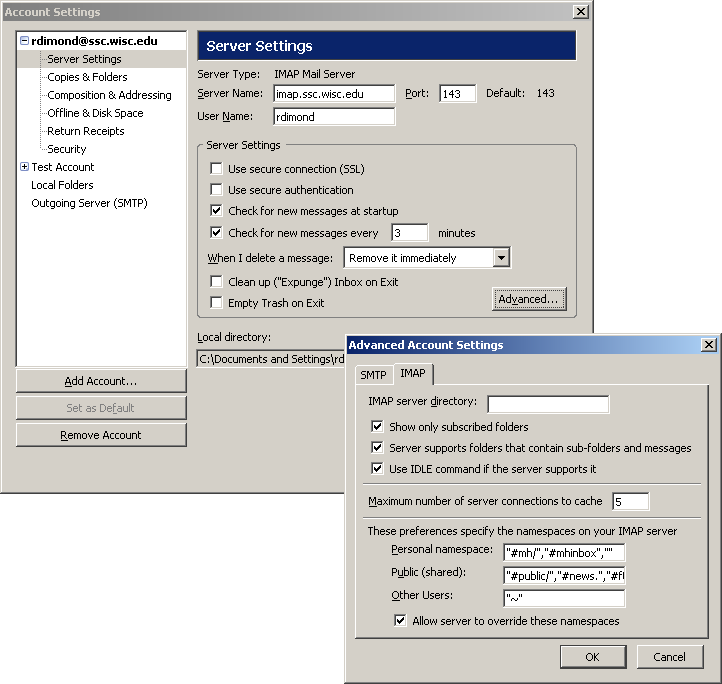 Outlook Express
Click Tools, Accounts, go to the Mail tab and choose your SSCC account (probably named imap.ssc.wisc.edu). Click Properties, go to the IMAP tab, and delete everything in the Root folder path box. Click OK and then Close. You may then need to click Tools, IMAP Folders, and Reset List to make your mailboxes appear.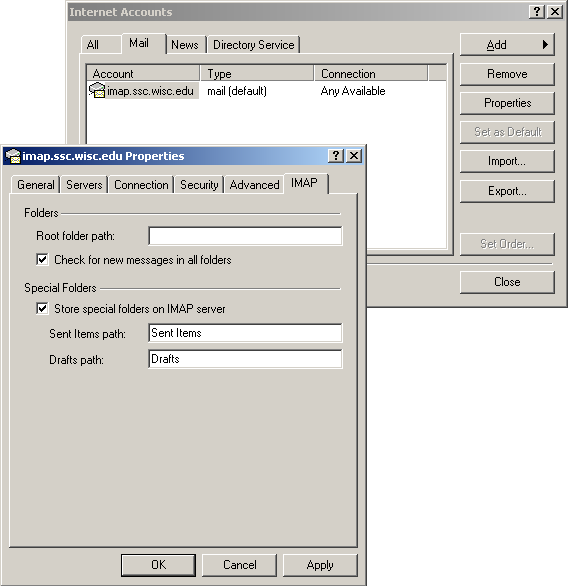 Eudora
Click Tools, Options and go to the Incoming Mail category. Delete everything in the IMAP Mailbox Location Prefix: box. Click OK, then right-click on Dominant and choose Refresh Mailbox List. You may have to refresh the list two or three times before it finds your folders.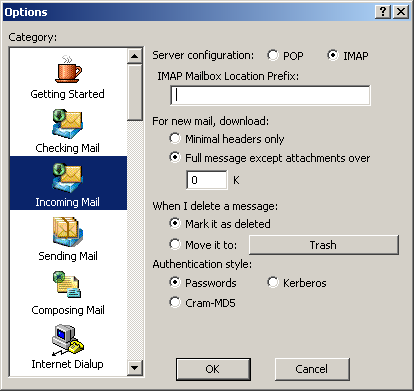 Outlook
Click Tools, Options, the Mail Setup tab, and then the E-mail Accounts button.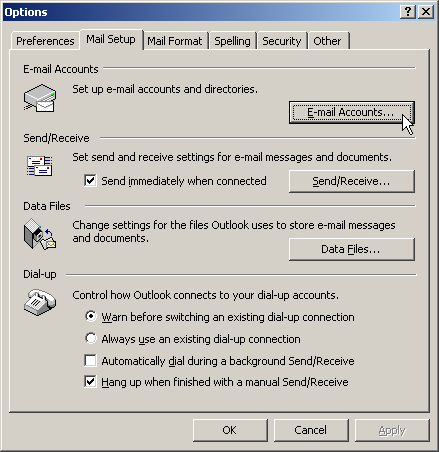 Make sure View or change existing e-mail accounts is selected and then click Next.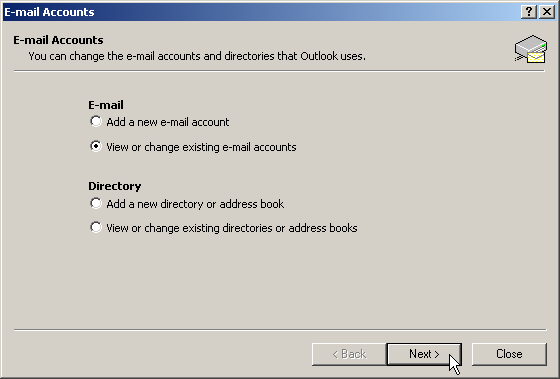 Select your SSCC email account (probably named imap.ssc.wisc.edu) and click Change.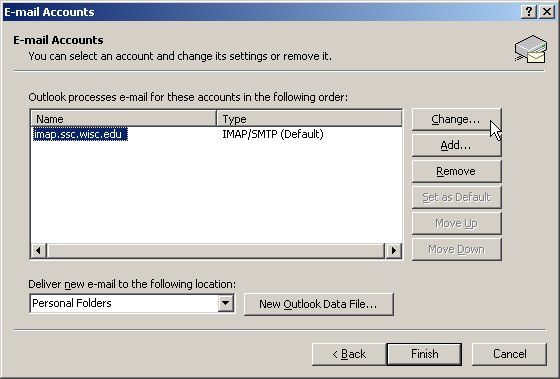 Click on More Settings.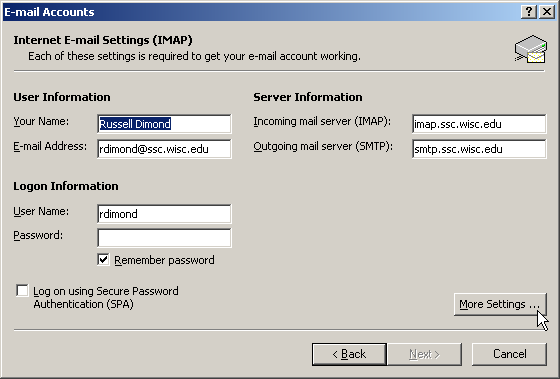 Click on the Advanced tab and delete everything in the Root folder path box.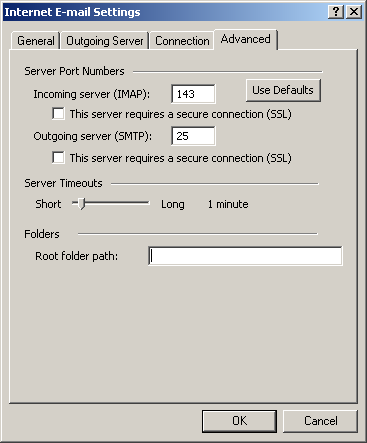 Click OK, Next, or Finish as needed until all these settings windows close. Right-click on the account (again, probably named imap.ssc.wisc.edu) in the Folder List window, choose Update folder list, and Outlook should find all your folders.
SquirrelMail
Click on the Folders link near the top of the page. Near the bottom you'll see a section called Unsubscribe/Subscribe. On the right side you'll see a list of folders you can subscribe to; select the ones you want and then click Subscribe. Then click refresh folder list near the top of the Folders pane on the left.
I get a message that imap.ssc.wisc.edu or smtp.ssc.wisc.edu cannot be found
A core part of the Internet are "Domain Name Servers" (DNS) that associate server names with specific IP addresses (i.e. numbers). But when a server changes it can take some time for all Domain Name Servers to learn about the change. We'll make sure our DNS server and DoIT's are updated right away, but if you're at home or elsewhere in the world it could be up to 24 hours before your network's DNS servers can direct you to our new mail servers.
SquirrelMail, our web-based mail program, will not be affected by DNS issues, so you can use it as a temporary work-around until your network's DNS servers are updated. You're also welcome to log in to one of our Linux servers and run PINE.
Again, please contact the consultant if you run into problems not described in this publication or have any other questions.
Last Revised: 1/11/2006